05 Feb 2019
A trainee aircraft of Carver aviation (pilot training institute) has crashed near Indapur, Pune on Tuesday.
The trainee pilot was immediately rushed to the hospital in Baramati after the crash.
Carver Aviation is 21 years old academy. Academy of Carver Aviation has a fleet of 11 aircraft including Cessna's (152/ 172), CTLS and P68C, which is a mix of single, and multi engine aircraft. The Cessna 152 & 172 is the most widely used and versatile aircraft in the world for training purpose.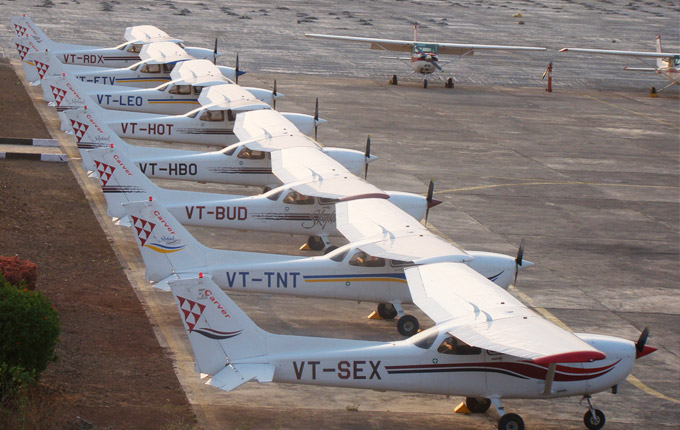 Carver Aviation has very peculiar and unique aircraft call sign of their aircraft fleet.
Aerial Photography or survey in Mumbai
Aerial Photography Services In Delhi
Crashed Aircraft.
There are total 31 flying clubs in India which are approved by DGCA as follows :
LIST OF DGCA APPROVED FLYING TRAINING ORGANISATIONS(as on 17.07.2018)
| | | |
| --- | --- | --- |
| Sl. No. | Name of the Flying Training Orgnisation | Validity up to |
| 1 | Asia Pacific Flight Training Academy Ltd. GMR HIAL Airport Office Rajiv Gandhi International Airport Shamshabad, Hyderabad-500409 | 09.02.2020 |
| 2 | Amber Aviation Pvt.Ltd., Pant Nagar | 12.04.2021 |
| 3 | Academy of Carver Aviation, Plot No. P-50,MIDC Ind. Area, Near Baramati Airport, Baramati-413133 | 29.04.2020 |
| 4 | Alchemist Aviation Pvt. Ltd. Sonari Aerodrome, Jamshedpur, Jharkhand-831011 | 20.05.2023 |
| 5 | Ambitions Flying Club Pvt. Ltd., MS- 10 NH-91, Aligarh Airstrip, Dhanipur, Post Panethi, Aligarh-202001 UP | 30.11.2020 |
| 6 | Ahmedabad Aviation & Aeronautics Ltd., AAA Hanger. Old Terminal Airport, Ahmedabad 38003, Gujarat | 11.08.2020 |
| 7 | Bihar Flying Instt. Government of Bihar, Cabinet Secretariate Civil Aviation Directorate, Patna Airport, Patna | 13.09.2020 |
| 8 | Banasthali Vidyapith Gliding Flying Club, Banasthali Univ., Banasthali, Dist. Tonk Raj.-304022 | 09.11.2020 |
| 9 | Chimes Aviation, Sagar, (MP) | 20.04.2020 |
| 10 | Flytech Aviation Academy, A1- Kauser, Plot No.295, Road No. 10, West Maredpally. Secunderabad. | 17.11.2020 |
| 11 | Falcon Aviation Academy, Faizabad (UP) | 19.12.2020 |
| 12 | Govt. Aviation Training Instt., Directorate of Aviation, Orissa, Civil Aerodrome, Bhubaneshwar. | 27.12.2020 |
| 13 | Garg Aviation Ltd., Hanger No.3, Civil Aerodrome, Cantt. Kanpur- 208004, UP | 10.11.2020 |
| 14 | Govt. Flying Training School, Jakkur, Bangalore. | 31.12.2020 |
| 15 | Gujarat Flying Club,Vadodara | 06.04.2021 |
| 16 | Haryana Institute of Civil Aviation | 10.12.2020 |
| 17 | Indira Gandhi Rashtriya Udan Akademi Fursatganj, Dist. Raebareilly, UP-229302 | 26.03.2020 |
| | | | | |
| --- | --- | --- | --- | --- |
| Sl. No | Name of the Flying Training Orgnisation | State | | Validity up to |
| 18 | Madhya Pradesh Flying Club, Devi Ahilyabai Holkar Airport, Civil Aerodrome, Bijasan Road, Indore- 452005 | Madhya Pradesh | | 20.03.2020 |
| 19 | Madhya Pradesh Flying Club, Raja Bhoj Airport, Bhopal | Madhya Pradesh | | 20.03.2020 |
| 20 | Nagpur Flying Club, Office of the Divisional Commissioner, Civil Lines, Nagpur-01 | Maharashtra | | 17.08.2020 |
| 21 | National Flying Training Institute, Pvt. Ltd, C/o Airport Authority of India, Birsi Airport, P.O. Paraswada, Gondia, 425 614 Maharashtra | Maharashtra | | 18.02.2021 |
| 22 | Orient Flight Aviation Academy,Mysore. | Karnataka | | 17.12.2020 |
| 23 | Patiala Aviation Club, Civil Aerodrome, Sangrur Road, Patiala | Punjab | | 12.05.2021 |
| 24 | Pioneer Flying Academy Pvt. Ltd, MS-10, NH-91, Dhanipur Airport, Post Panethi, Aligarh-202001 UP | Uttar Pradesh | | 18.02.2021 |
| 25 | Rajiv Gandhi Academy for Aviation Technology, Thiruvanathapuram | Kerala | | 22.03.2022 |
| 26 | Sha- Shib Flying Academy, (Guna) M.P. | Madhya Pradesh | Trust | 27.07.2020 |
| 27 | SKVM's Flying Academy of Aviation, Campus-Babulde, Banks of Tapi River, Mumbai-Agra Road, Shirpur, Dist.-Dhule-425 405 | Maharashtra | | 27.08.2020 |
| 28 | Saraswati Aviation Academy, Sultanpur, Amhat Airfield, UP | Uttar Pradesh | | 30.07.2020 |
| 29 | Telangana State Aviation Academy,Andhra Pradesh,old Air port,Hyderabad-500011 | Telangana | | 07.01.2021 |
| 30 | The Bombay Flying Club, Juhu Airport, Santacruz (W), Mumbai | Maharashtra | | 28.10.2020 |
| 31 | Wings Aviation Pct. Ltd., 1-11-256/B, Plot No. 108, Adjacent Airport Road, Begumpet, Hyderabad. | Telangana | | 26.10.2020 |