05 Sep 2015
Boeing 777-9X -World's Largest Twin Engine Aircraft
Boeing 777-9X -World's Largest Twin Engine Aircraft:
Boeing has unveiled largest twin engine aircraft in the world i.e. Boeing  777-9X.  The wings of Boeing 777-9X is so large that designers had to put hinge on the wings . The hinged wingtips alone will measure 12 feet. This give extra lift which will reduce the fuel burn.
They'll help the plane save an overall 12% more fuel than the Airbus A350, Boeing says.
Boeing 777-9X Wing Hinges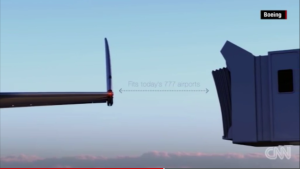 Bigger windows, wider cabins of Boeing 777-9X :
Similarly like the wings, the plane's cabin also will be big, Boeing says.
The 777-9X will be capable for seating of at least 400 passengers. That's 34 more than the 777-9X's competitor — the Airbus A350-1000 — which holds 366 in a typical three-class configuration.
The 777-9X cabin will be 16 inches (40 centimeters) wider than the A350-1000, Boeing says, allowing economy-class seat widths up to 18 inches (46 centimeters).
Typical airline seat widths range from 17 to 18.5 inches (43 to 47 centimeters).
What else might grab air travelers? The window seats.
The 777-9X's windows will be 15% larger than competing airliners, Boeing says.
The windows will be placed at a height that will be eye level for most passengers.
Boeing is hinting about other passenger goodies on the 777X, such as new lighting and "enhanced architecture" for the cabin's interior design.
Airlines will have options to configure each passenger class differently.
Each class could have unique overhead ceiling and stow bins, for example, that would "create the feeling of separate and distinct cabins," Boeing says.
What's powering this new Boeing 777-9X?
Thrust comes courtesy of two fuel-sipping GE9X jet engines.
Amazingly, the engines' fuel nozzle tips will be created via a process called additive manufacturing — aka 3-D printing.
See how engineers "print" airliner engine parts
Although the fuselage will be made of aluminum, the wings will consist of a strong, yet super bendy material that's driving the future of aviation: carbon-fiber reinforced polymer.